This is the first slider thumb I've really been satisfied with. The key was to use the shape feature to create an hourglass-like shape. I put this on top of a slightly rounded rectangle.

Download: Silver Slider Thumb
About as simple as it gets. But sometimes what's simplest works best.

Download: Simple Slider Thumb
This slider thumb features the track underneath. My preference is making the track part of the background image. However, in order to include an effect like the variable light meter, you really have to render both the slider thumb and track in KnobMan.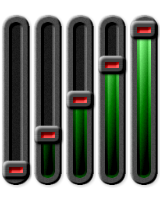 Download: Slider with Track